Handicap Accessible Baths and Showers for Charlotte
Helping North & South Carolina Homeowners Regain Their Bathing Independence
Getting in and out of the bathtub can be difficult for anyone, but it becomes increasingly hazardous as you get older. Southern Window & Gutter Company of Charlotte can help if you are having trouble stepping in and out of your bathtub or shower.
Our baths and showers are designed with your safety and comfort in mind. We have a wide selection of styles of walk-in showers and tubs to help make your bathing experience easier, safer and more convenient.
Our walk-in tubs, barrier free showers, tub-to-shower conversions and step-through inserts are made using high quality acrylic material with an easy-to-clean Microban antimicrobial finish.
Plus you can fully customize your bathtub or shower with our wide range of accessories and features like therapeutic air massage system, a hydrotherapy massage system, hand shower wall slider bars, additional safety grab bars, a headrest pillow, aromatherapy kits, an ozone sterilizer, an in-line water heater and more!
Ask Us About 0% Financing†
During Your FREE In-Home Consultation!
Southern Window & Gutter Company of Charlotte Offers: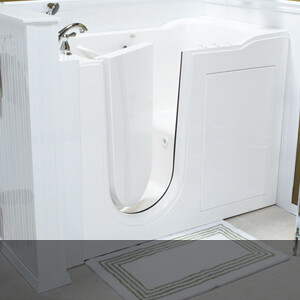 Walk-in Tubs
Tub-to-Shower Conversion
Barrier-Free Showers
Step-Through Inserts
Bathroom Remodeling Experts for Homeowners in Charlotte, North Carolina and the Surrounding Areas
One of the most important factors in determining how long you can remain in your home is how you are able to function independently in places like your bathroom. Southern Window & Gutter Company of Charlotte can help you feel confident with our bathroom remodels.
We can make your day-to-day living tasks easier and safer with a new tub or shower. Remodeling your bathroom can help accommodate your changing needs and increase your homes market value. We have a variety options and safety features available to help you maintain bathing independence.
Southern Window & Gutter Company of Charlotte has been serving homeowners in Charlotte, North Carolina and throughout North and South Carolina for years and continues to earn repeat business from our customers.
Contact us today to see how your home can benefit from our accessible baths and showers.
"Just a little note to thank you and your staff for the professionalism and skill exercised in installing the new Gutter Guard for our home. Having lived through an autumn where all the trees in our neighborhood seemed to aim their leaves at our old gutter system, we cannot wait for the next fall." Steve, Simpsonville, SC – February 7, 2011