Bath Systems from Southern Window & Gutter Company of Charlotte
High Quality Replacement Bathtubs and Bath Liners
If you are tired of that ugly, outdated tub we can help. Transform the look of your bathtub in as little as one day with a replacement tub or bath liner from Southern Window & Gutter Company of Charlotte!
Because our bath remodels can take as little as one day, you don't have to inconvenience the whole family for weeks on end to get a new bath. Get a new bath for a fraction of the cost that is easy to clean, easy to maintain and looks great.
Bath Wraps are custom molded acrylic bath liners that are formed to fit directly over your existing bathtub and bath walls. Our custom-fitted bathtubs and walls are made using the finest and most durable materials used in bathroom remodels.
Ask Us About 0% Financing†
During Your FREE In-Home Consultation!
Southern Window & Gutter Company of Charlotte Offers: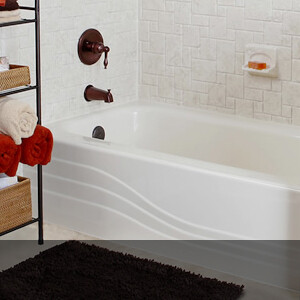 Replacement Bathtubs
Bath Liners
Bath Installation Experts for Homeowners in Charlotte and throughout North and South Carolina
Southern Window & Gutter Company of Charlotte strives to provide complete bathroom remodeling solutions to meet the needs of our customers in Charlotte and surrounding areas.
With a variety of styles to suite your style and budget, we can provide you with a beautiful, hassle free bathroom that will increase the resale value of your home. We use some of the highest quality materials available and we believe in the work we do.
If you would like more information about having a Bath Wrap installed in your bathroom, contact Southern Window & Gutter Company of Charlotte today by calling us or contact us here for a free, no obligation, in home estimate.
"Please be advised that our recent experience with Ultimate Gutter Guard by Southern has been one of the most gratifying and satisfying in our forty years of home ownership. Our decision to replace all 22 windows in our home with your product and related service resulted in our complete and total satisfaction." Joseph, Greer, SC – July 8, 2010